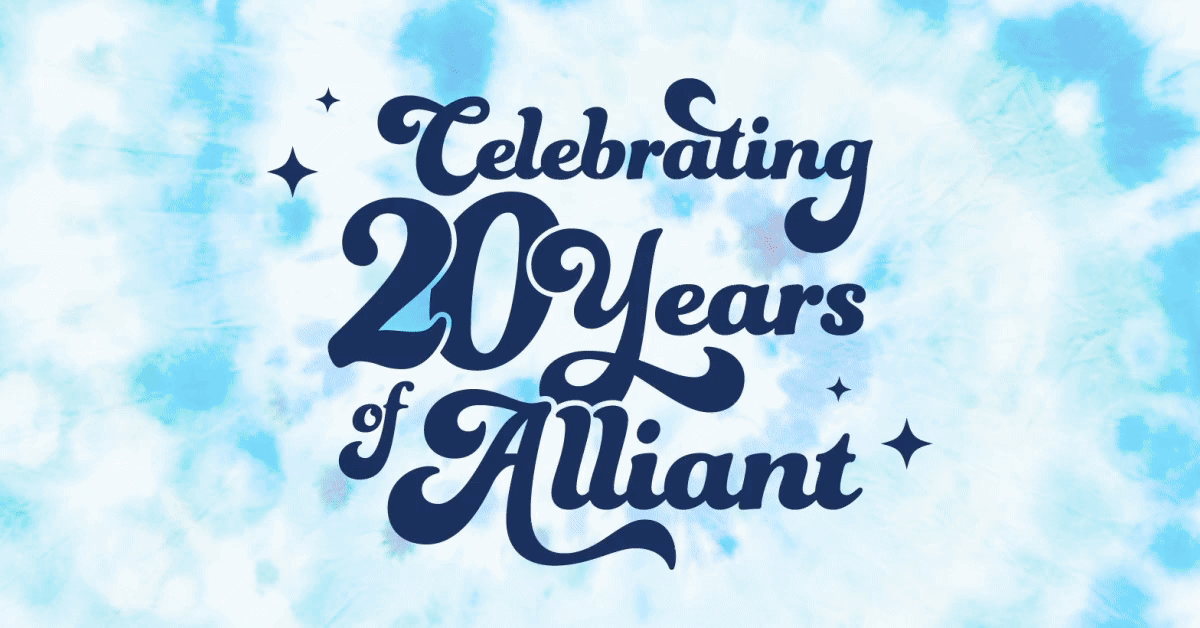 Alliant celebrated its 20th anniversary this August, serving as an opportunity to reflect on how far we've come and where we are going. Alliant's President & CEO, JoAnne Monfradi Dunn, has led the company through multiple waves of change over the last two decades, evolving the business from a credit scoring cooperative to an omnichannel marketing solutions provider. After our team outing celebrating this milestone, I sat down with JoAnne to hear her unique perspective on what makes Alliant special. Sneak peek – it's not the data, but the people.
This year marks the 20th anniversary of Alliant. What is the first thing that comes to mind when you hear that?
JoAnne: The first thing is how remarkable the team is in how they've transformed the business and kept us ahead of where the market is and where the market is going. That's really exciting.
Joseph: Well, that has to come down to leadership too, right?
JoAnne: It does, and we really have a strong leadership and management teams. Having that strength in the company really makes a difference in how we deliver for our clients.
What inspired you to found Alliant and enter the marketing and credit industry specifically?
JoAnne: I have been in the data industry for a long time. I started my career in marketing in my 20's at Time-Life. They were exceptional about moving talent around from different departments to provide better exposure in direct response marketing and that was foundational for me when it came time to start Alliant.
After Time-Life, I had several jobs in the data sector and I saw a market need. Our business was focused on using negative data to offset negative outcomes in marketing campaigns. But it was one side of a head on collision, it was just the negative data. So, I thought why don't we pull together negative and positive data at a very granular level to see if we can better predict consumer outcomes and create optimization solutions. And that's how we started Alliant. As the market evolved, we realized that we were not going to scale a business on optimization only. We expanded the business from optimization, to include enrichment, real-time decisioning and audience programs for digital and direct. It's all been evolutionary to stay ahead of the market.
What are some of Alliant's biggest accomplishments?
JoAnne: The transformation from a direct response company to a omnichannel company. Others include stewarding quality data, our distribution network for delivering our data in the ecosystem, but most importantly developing our team. We can get more data, we can get more technology, but without the team we can do nothing. Building a strong, smart team that is growth minded and innovative has been foundational to how we've grown the company.
Joseph: Relationships are important especially on the distribution and membership sides.
JoAnne: Yes, the team's strong relationships with Members of our DataHub amplify the benefit of the cooperative and are key drivers of the success for clients and the business.
What are some of your favorite memories from 20 years of Alliant?
JoAnne: Many of them are about our clients, their support for us building this business from scratch and the value we've delivered for them. I have many favorite memories from the talent we've hired and developed, people that have been here for 15+ years and seeing how they've grown professionally and the contributions they've made to the company.
I have a lot of memories from the myriad of parties we have here. I'm a big fan of Halloween and I've had some pretty great costumes over the years. One of my goals in my Halloween costume planning is to get to the office and have people say, "who is that?". So it's a fun thing and it's a fun day for us.
Alliant celebrates many holidays and milestones as a team. I think being able to stop and step back from all the hard work to spend time with people across teams we don't normally spend time with is an important part of our culture. When our internal relationships are strong and healthy, our external relationships are strong and healthy.
We've talked a bit about multichannel evolution. How would you say your overall vision for Alliant has changed?
JoAnne: Our core business model has always been a data and analytics company. That's what it was in 2001 when I was trying to raise money to start the company. And that's what it is today. Companies tend to pivot a lot as startups, and we have pivoted from a product perspective, but all the solutions are still driven or delivered through high quality data and advanced analytics. The vision to be a best-in-class audience company, providing proven insight, acquisition and engagement solutions to brands and agencies, has not changed.
What has you most excited about the future of Alliant?
JoAnne: The growth this year has been unprecedented. What excites me right now is the opportunity for us to continue to drive product innovation, quality, and scale. We have a substantial total addressable market when you look at the data landscape and the white space between where we are and where we can go with the products we have today. On top of that the evolution of clean rooms, data collaboration platforms and evolving the next generation of data cooperative puts us in an exceptional place to provide significant value to our Members, clients and to the marketing community at large.
Joseph: The team is clearly central to Alliant's success. Going into year 21 do you think we will surpass 100 associates?
JoAnne: We will achieve the 100 associate milestone in 2022.
Joseph: Well, that's an exciting milestone.
JoAnne: It is. Part of what I'll be focused on going from 75 today to 100 associates and beyond is maintaining and building on our culture, so we ensure that we are doing the right thing for our associates and partners.
Cheers to 20 years and more! Follow Alliant on LinkedIn and Twitter to stay up to date on our exciting evolution. Interested in learning more about our audience, enrichment and predictive modeling solutions, reach out to us!