This is a preview of Alliant's new eBook "8 Questions Every Marketer Should Ask Their Data Partners". The guide arms you with the information you need to find the high-quality data sources required to effectively acquire and retain customers — and build your competitive advantage.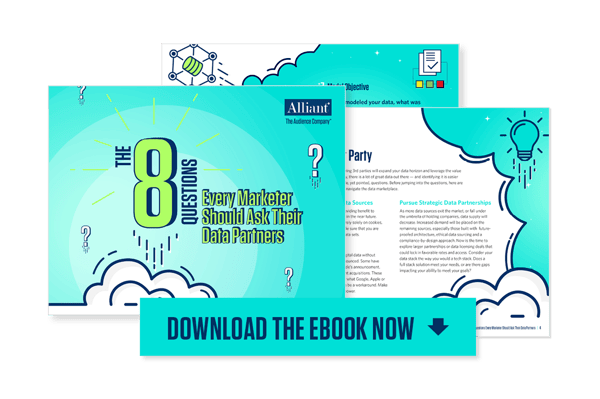 Question #5: "At which level was the data collected —and is it activated at the same level?"
This question can help you understand the strength of the signal. Don't assume the data collection level is the same as the final data set that is made available to you. They can be different, which can have a big impact on performance. Consider a basic age and gender audience entitled "F25-34". A buyer seeing this name in a UI might assume it is an audience of females in that age group, perfect for the campaign goal. However, if the data was sourced at the individual level and activated at the household level, the campaign will reach all households that simply contain F25- 34. Understanding this disconnect might provide an opportunity to find a stronger deterministic segment.

All that said, there are many great use cases for household level data/activation, such as brand awareness campaigns, or purchases that are made collectively as a household. The two categories are not mutually exclusive, and when used together, they can produce some of the strongest results.
*****

Click below for more strategic guidance and access to the other 7 questions. It's free!