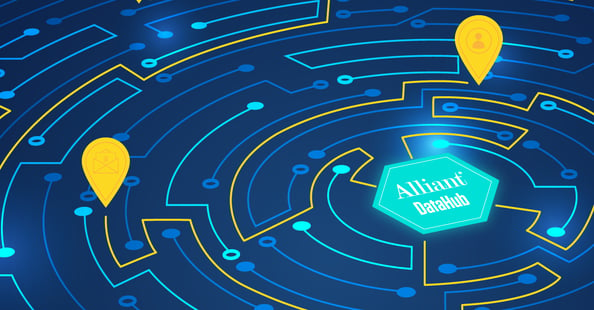 Identity is the foundation for delivering amazing customer experiences — enabling data unification, insights, enrichment and the delivery of people-based marketing strategies. However, effectively connecting and managing identity has become an increasingly daunting task for brands as consumer buying behavior has fragmented across a myriad of channels.
These challenges are compounded by a daily stream of consumer privacy demands, tech provider announcements and regulatory updates. When Google first shared their plans for 3rd party cookie deprecation in 2020, there was hope that a single solution would address all concerns and become the new standard. That idea was quickly replaced with a more realistic mindset of uniting around a handful of interoperable IDs. With over 80 productized ID solutions in market there is still much debate taking place about how the post-cookie reality will look in 2023 and beyond, even with some clear leaders emerging from the pack.
As a data cooperative and audience data provider, Alliant is constantly improving its DataHub identity map with an agnostic and flexible approach. This journey includes constant evaluation of data hygiene rules, integrating with leading ID solutions and communicating throughout the industry. Our brand and agency partners know that they will have access to quality data when choosing the IDs, platforms and channels that work best for their needs.
Below is a summary of the key linkages within the DataHub:
Alliant Link Keys
Alliant ingests billions of data points from hundreds of sources, each of which might have a different representation of an individual (different variations of their name, addresses, various emails, etc.). We help marketers understand the purchase, demographic, geographic, behavioral, and lifestyle information about a consumer by resolving identity to an ID at three levels:
Person link key (PLK): the most granular level unique ID representing an individual
Household link key (HLK): A unique ID associated with all members of a household
Address link key (ALK): A unique ID associated with a specific postal address
These IDs also serve as the "bridge" between digital and PII-based data, creating powerful connectivity while preserving privacy.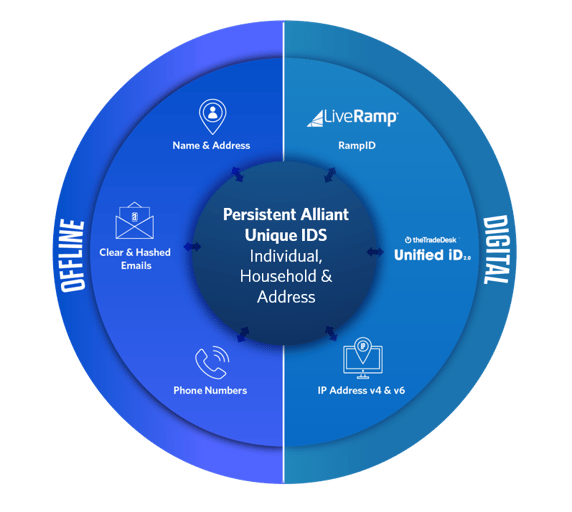 Unified ID 2.0
Unified ID 2.0 is open-source software that doesn't rely on third party cookies. Alliant integrated with UID2 in May 2021, joining a growing list of market leaders that have adopted the solution. Originating with The Trade Desk, the goal for UID2 is to improve and support an independent internet, providing a free solution to all parties in the supply chain, including SSPs, DSPs, DMPs and data providers. Ownership has since transferred to Prebid, a nonprofit organization working to standardize programmatic monetization, providing the industry with a trusted, neutral party to govern a scalable replacement for cookies.
RampID
LiveRamp's RampID, formerly known as IdentityLink, is another leading solution due to its cross-device architecture, comparable to the likes of Facebook and Google. RampID incorporates information such as mobile device IDs, consumer histories, home addresses and other offline information. LiveRamp began developing the RampID long before Google's plan and has been a part of Alliant's solutions for several years.
Hashed Emails
The DataHub contains over 1.5B hashed emails and serve as a critical link key for matching and digital activation. While we continually ingest a massive amount of emails, the qualified pool after our rigorous hygiene processes is about 60% smaller. For individual projects or campaigns, different levers can be adjusted to control for quality and scale, resulting in a customized output designed specifically for a marketer.
IP v4 & v6
With the increased importance of connected and addressable TV, Alliant has increased resources to growing and improving upon IP addresses. Like hashed emails, dedicated hygiene rules eliminate low quality or public IPs. As a result, marketers have been able to recognize increased scale and accuracy with their TV campaigns.
The effective use of predictive data is predicated on the accurate linking of individuals and households. Both the data and ID layers must be accurately architected in tandem, then linked together with the same level of care. That is why the Alliant team is dedicated to building the best version of the DataHub ID graph to power 1st party data strategies and multichannel marketing activation.
Be sure to check out our recent webinar, featuring The Trade Desk and LiveRamp, on ways that brands and agencies can start building their own strategies around multiple ID solutions.
Interested in learning more about how we approach identity? Reach out to our team to set up some time and we'll be in touch!