Brand marketers may find themselves seeking a silver bullet to achieve their first-party data goals, but there's no one-size-fits-all solution. To be effective, first-party data assets must be sizable, and brands must make investments to collect, manage and activate these assets.
Data cooperatives have a long history working for brands, particularly those with a direct-to-consumer focus, driving specific marketing outcomes with unique second-party data across hundreds or thousands of sources. They are a secret formula for many holding companies and large consumer data companies.
If you're looking for a partner to help manage all types of data, and are considering a cooperative or CDP, read on for some guidance on selecting the right solution for your needs.
Features of CDPs and Data Cooperatives
Here's a high-level overview—albeit by no means an exhaustive list—of how the core services of CDPs and data cooperatives compare when it comes to the features that matter most to marketers.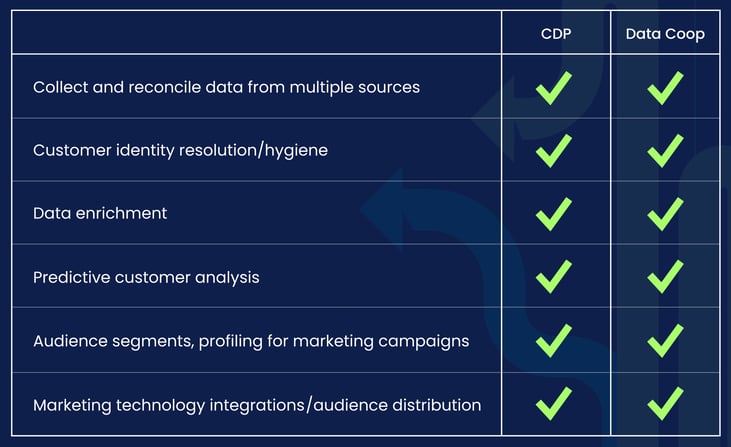 As you can see, CDPs and data cooperatives are very similar, overlapping on all key features. That means selection comes down to nuances related to approach and accessibility, as well as how they apply to your specific use cases, which we will discuss in a bit.
At a high level, CDPs represent a SaaS-based approach, while cooperatives act as a data layer that can be made accessible to other systems. Likewise, CDPs are primarily focused on first-party data, while cooperatives provide services for first, second (i.e., collaboration) and third-party data. Because of this, CDPs are best suited for customer journey tracking and engagement, while data coops can help enrich current customer data and support efforts to bring in new high value customers.
It's also important to highlight there is an inherent value exchange with the cooperative business model, through which brands contribute their first-party data in exchange for free and reduced-cost services. There are significant benefits to this type of partnership, but there are additional considerations, specifically compliance and privacy related, when choosing a partner, like how data is transferred, stored, maintained, and protected. A high-quality cooperative will have the information and resources readily available to support these discussions.
Assessing Your Specific Business Needs
When selecting a first-party data solution, it's important to define your goals and needs up front. Consider: What are your data priorities? Expanding first-party data? Acquiring new customers? Real-time engagement on digital properties? The responses to questions like these will help to clarify which solution might make more sense for your brand.
As mentioned, CDPs are quite useful for managing relationships with existing customers, especially if a brand has a complex tech stack with many systems generating lots of first-party data. That said, many CDPs are built with scaled, enterprise use cases in mind, so if your needs aren't quite there, a CDP might be excessive.
Weighing the Costs of CDPs vs. Data Cooperatives
As with any marketing decision, cost will always be a consideration when it comes to selecting a sustainable first-party data solution. So how do CDPs and data cooperatives compare?
CDPs: These platforms can cost anywhere from $10,000 to $300,000 per year, and that figure is largely determined by the number of customer profiles. There might also be add-on costs for features like ad targeting, real-time capabilities and others. It's also worth a multi-year forecasting exercise, as initial costs may be elevated for implementation and considering how SaaS costs compound over time.
Data Cooperatives: Coop members do not incur upfront costs other than the occasional expense to send the data itself. Fees are charged only upon data activation, meaning payment occurs closer to the time value is recognized from the investment. That's because of the value exchange we covered earlier.
Beyond hard costs, you also need to give some thought to internal resource availability when selecting a first-party data solution. CDPs will require ongoing IT resources and involvement from your finance team, and you'll want to implement a training program for platform users to ensure they can make the most out of your CDP investment. On the other hand, cooperatives typically operate with a managed service model that includes a team of experts (data analysts, data scientists, strategists, and others) watching over your data. This support can significantly reduce the burden on your internal resources.
Both CDPs and cooperatives can be great tools for data-driven businesses, and determining which is the right fit for your organization will depend on a variety of factors. Ultimately, CDPs and data coops don't have to be mutually exclusive. Depending on the needs, certain brands might choose to leverage both for maximum benefit. Regardless, before selecting your first-party data solution approach, make sure you're thinking through your goals, use cases, budget and resources.
Need help with your data-driven marketing? Contact the Alliant team to learn more about our first-party data solutions and support.