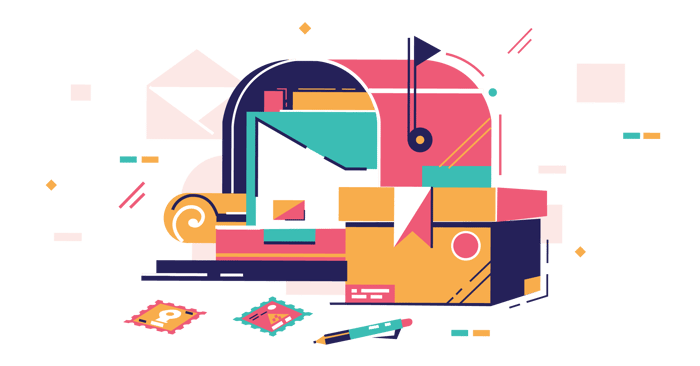 As consumers navigate through a complex path to purchase, it's rarely a digital-only or real-world only experience. According to a Periscope by McKinsey report, at least 60% of consumers said their purchasing journeys include both online and offline touchpoints. The marketing industry has evolved to prioritize the audience, rather than channel, and many brands still under-leverage direct mail in their people-based strategies. As long-time fans of direct mail, we see this as a missed opportunity to connect with a consumer when they're digitally unplugged (talk about a Matrix moment writing this statement). When you look at the unavoidable costs of printing, postage and other logistics, one can understand why there is a perceived barrier to entry for direct mail, especially compared to the ease of launching digital campaigns. But there is a way to minimize these expenses while achieving great return on direct mail investment.
Direct marketers recognize the necessity of certain cost-management processes such as selecting effective lead sources, de-duping records and setting up test and control groups. That should never be where things end, though. Every single direct mail campaign should leverage the power of predictive modeling and machine learning to optimize performance and profitability before delivery. This is true whether you are executing well-timed 1x1 interactions based on multichannel signals, or higher-volume seasonal campaigns. And if you're not yet using direct mail in your channel mix, perhaps the possibilities of optimization will be the assurance you need to test.
Here are 3 ways direct mail optimization will benefit your campaigns:
Truly keeps the audience in focus: There is a dichotomy between real-world and digital behavior - we can't assume it will be consistent across channels. If you test a top performing audience from a digital source, invest in a model that optimizes specifically for direct mail. Some of those top digital performers may not check the mailbox with gusto. A model can predict how someone will respond for direct mail specifically, allowing you to confidently test various sources and make the most of the channel.
Delivers on your specific KPIs: A predictive model will push prospects or customers who are most likely to take a preferred action to the top. On-demand models can be quickly tested to improve response or payment rates, but custom models are where things get interesting. Using your 1st party data in combination with unique data sets, such as the Alliant DataHub, will allow you to build a model that is tailored to your business and your definition of customer LTV. Mail only to consumers who not only look like your best customers, but also behave like them.
Saves money: Ah yes, the best for last, the savings! Predictive models will identify lower performing audience segments so that you can avoid those who are never going to generate a profitable return. Save on printing, postage and fulfillment and redirect your marketing investment to areas that will deliver greater ROI!
Keep in mind that dropping certain segments of your audience does not mean you have to live with smaller campaigns. You can leverage a model on other sources to identify hidden pockets of potential high-value customers, or work with a partner like Alliant to backfill with proven audiences.
Now is the time to rethink your approach, regardless of whether direct mail is a "new" channel to your business or something that has been used for years. Campaign optimization is the right way to take a proven channel like direct mail and make it more effective and profitable than ever.
Looking for more ideas on how to use predictive modeling to enhance your direct mail campaigns? Alliant has been improving results through optimization for our clients for over 17 years. Reach out to connect with our data experts to learn more!