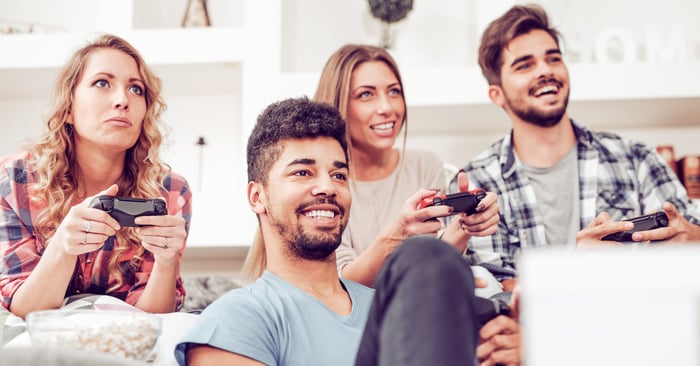 The numbers are incredible. According to The NPD Group, U.S. consumers spent $9.1 billion on gaming in the third quarter of 2018, for an increase of 24% year-over-year! Sure, Fortnite is a big driver. (A new chart from Statista shows Epic Games added 150+ million new users in 2018 alone.) But they aren't the only ones riding the wave. Gaming titles, platforms, accessories and eSports across the board are raking in record sales.
It's a red-hot market and everyone is vying for a slice of it. But if you're looking for a Victory Royale you'll need to upgrade your targeting strategy.
Introducing a Better Way to Target the Gamers You Need
On surface level, it may seem like all gamers (at least of a certain genre) are similar. Is there a difference between Madden Sports and NBA2K players? What about gamers who buy at GameStop vs. rent at Redbox? Our data has shown that, more often-than-not, there are indeed major differences in the make-up and value of gaming consumers – from what they talk about on social to what they purchase online or offline.
For this reason, Alliant is excited to announce the release of 34 new gamer audience segments — each containing the best possible prospects for specific gaming brands, products and genres. Our data scientists used a combination of transactional, social, demographic and socioeconomic data to predict and package the best prospect audiences for your campaigns, including:
Audiences by Game Franchise e.g. Mario®, Fortnite®, Fallout®, Madden®, Candy Crush®, etc.

Audiences by Game Genre e.g. Battle Royale, RPG, Action, Adventure, Simulation, Sports, etc.

Audience by Channel/Retailer e.g. Big Fish Games®, Twitch.com®, RedBox®, GameStop®, etc.

Audience by Publisher e.g. Activision®, Take-Two®, King®, Electronic Arts®, etc.

Audiences by Platform e.g. PS4®, Mobile, XBox®, Nintendo®, Steam®, etc.

Audiences by Gaming Accessory e.g. KontrolFreek®, Turtle Beach®, Astro®, Mad Katz®, etc.
Unlike other Alliant segments, these audiences aren't readily accessible on your digital platform just yet. But don't worry, getting access is as easy as asking. Literally. Just tell us which audiences you want access to and we'll deliver them to your preferred digital or social platform in 48 hours or less for you to target when you want, as much as you want.
Have questions or want something more custom? Drew Nestico's your man. Contact him at 845-617-5488, or anestico@alliantinsight.com.