Last Updated: September 2021
Selecting the right approach can deliver a clearer understanding of your audience and more flexibility.
Look-alike modeling has become an efficient go-to method for marketing teams seeking new prospects. Alliant has utilized this methodology for data-driven marketers since inception, and large platforms have offered this functionality for years. Increased demand for look-alike models in all channels has driven other platforms, such as LinkedIn, to revamp or release new modeling features.
Teams responsible for activating audiences need to be mindful of the variations in today's look-alike tools and ask questions that drive strategy and results. To achieve this critical mindset and optimize performance, let's first define look-alike modeling.
What Is Look-alike Modeling?
Beginning with a seed audience of "best customers," look-alike modeling is a methodology that evaluates the traits and behaviors common to the group. Machine learning algorithms search a larger database for consumers who share similar characteristics, resulting in a large, qualified group of prospects.
How Does Look-alike Modeling Benefit Your Business?
As businesses grow, it can become increasingly difficult to find a substantial pool of high-quality prospects to target. Look-alike models effectively target new and unique prospects that behave and purchase like "best customers."
How Do Look-alike Modeling Solutions Differ?
There are differences in the way that platforms model look-alike audiences. The chart below compares some of the larger walled-garden solutions to more boutique approaches like Alliant's. Take note of the differences in control, scale and transparency.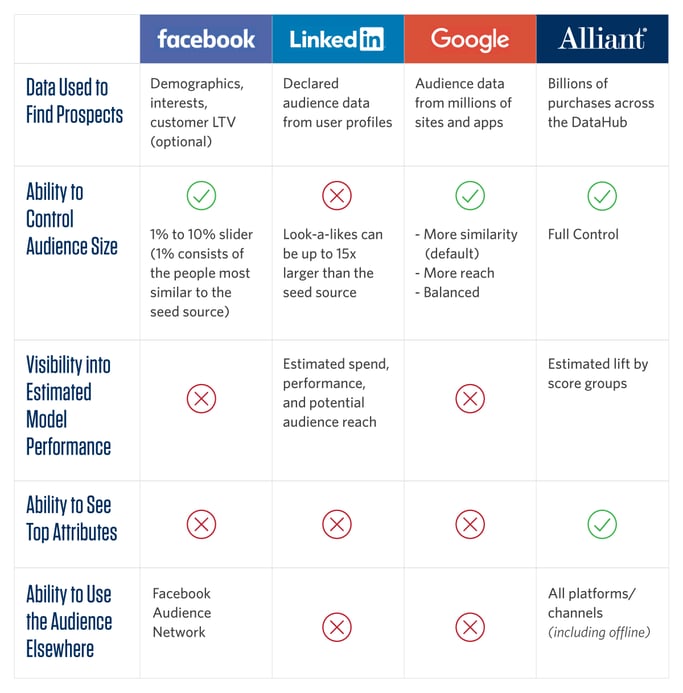 Different solutions have unique benefits and limitations. You should consider these in view of your campaign goals and prioritize the functionality that matters most. As your goals evolve, the seed audience should represent these changes as well. For example, consider optimizing for Lifetime Value over time. Additionally, once a campaign is live, be careful that the platform optimization is not in conflict with what the audience was intended to do.
Take the Next Steps to Build a Pro Strategy
Below are a few recommended questions to help plan for your look-alike model:
How large should my seed audience be?
What data is being modeled to expand my audience?
How strong is the model?
How much control do I need over audience size?
Are there attributes that pop in the model? What can I learn from them?
Do alternative options better align with my objectives?
A custom look-alike model — built on the foundation of unique transactional data — will find qualified prospects, provide measured control of audience sizes, and allow insight into the attributes that power the model. For a more complex and mature business, this kind of transparency and control is valuable. Lastly, a custom look-alike model creates custom audiences that can be used across digital and offline channels, including the walled gardens. Build it once, use it everywhere.
Want to get started building a look-alike model? Get in touch!