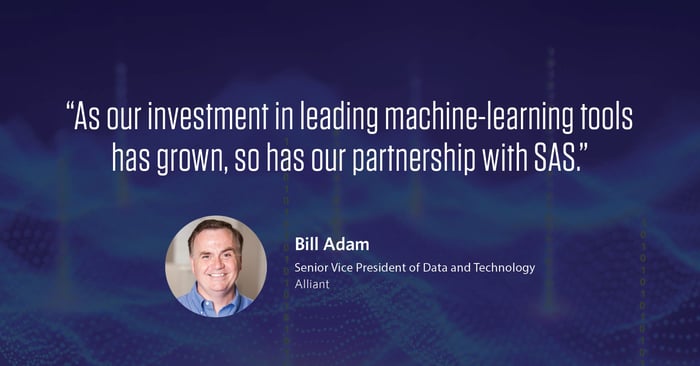 In the start-up days of Alliant, the original data science team held SAS as the gold standard for analytics. They chose it to be the critical tool in developing regression models, core to Alliant's solutions. Over time, SAS also became embedded in our production processes. To meet the expanded workloads and requirements of modern marketing, Alliant migrated to the SAS Viya platform, upgrading from SAS 9.4. As our investment in leading machine-learning tools has grown, so has our partnership with SAS.
Partnering with the Alliant Analytics and Dev teams, the SAS Customer Advocacy team published a feature on our journey from 9.4 to Viya in early 2020. Shortly after the publication of the story, Alliant was one of four customers invited to present at the recent SAS Analyst Conference, providing a platform to share our work on a successful migration to SAS Viya solutions. Our talk focused on our need for enhanced scale and machine learning workflows in our predictive modeling solutions. These changes were driven by our growing DataHub Membership, increased digital advertising demand for syndicated and custom audiences, and the need to more efficiently build models and deliver larger than ever audience files.
In migrating to SAS Viya, we have shortened our processing workflows by 85%, delivering solutions at the speed our clients' businesses demand. An added benefit was access to a larger suite of algorithms, with which we built proprietary machine learning workflows. These enable the data scientists to go beyond logistic regression, creating innovative methodologies that help clients identify larger audiences of more qualified consumers. Read the full SAS and Alliant Customer Story to learn more about our transition and machine learning capabilities.
With high-powered new tools in our kit, the team is energized, continuing to integrate new capabilities into Alliant solutions. Additionally, to further support enterprise level processing needs, the team is building and testing an elastic cloud workspace to manage job flow. With the option to spin up expanded workspaces as needed, the team can manage large monthly data projects without disrupting our standardized Audience, Optimization and Enrichment solution workflows. Look at this as an express lane for time-sensitive data projects.
Our journey with SAS will continue as we discover new opportunities to present the outcome of our Cloud solutions and improvement roadmap in late 2020.