Over the course of 2020 and into 2021, the Alliant team has continually monitored the impact of the pandemic on our Member community. The trends specific to the Food & Beverage vertical, particularly those with subscription and or home/delivery models, have proven to be intriguing. Many of these companies benefited from the shifts in consumer behavior, often leading to customer acquisition that outpaced their ability to fulfill. Certainly an envious position to be in when compared to the alternative many businesses faced, yet these dramatic shifts in the complexion of their customer base creates different challenges and opportunities.
As we start to emerge from the pandemic, it's critical to understand how these new customers look and behave differently than those they had acquired pre-pandemic, and what that means for sustained growth going forward.
Here are a few highlights aggregated across new and existing customers of Food & Beverage delivery brands.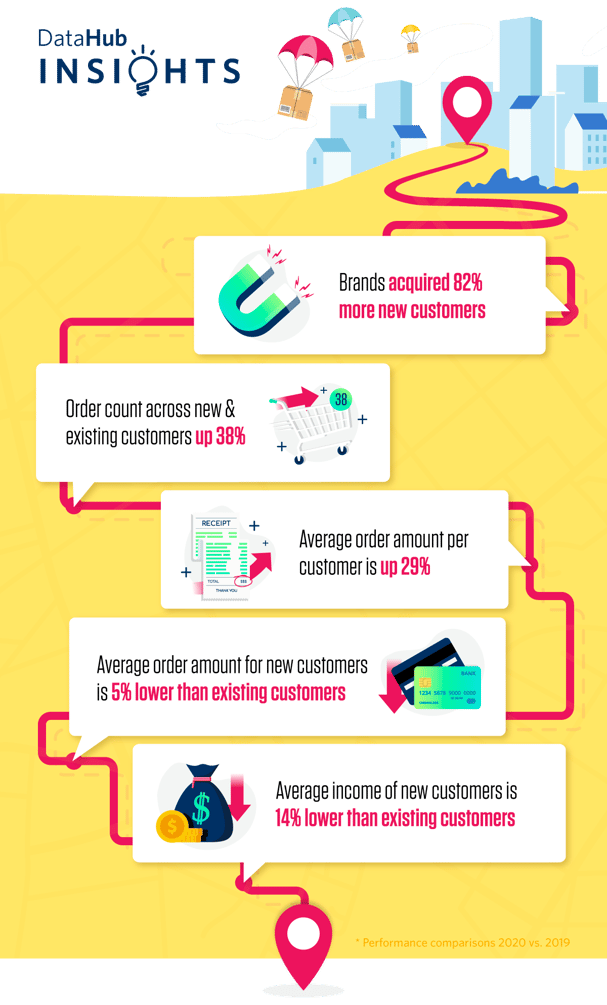 Even though the U.S. is on a positive recovery trajectory, the long-term impact of the pandemic will continue to unfold. Our team will continue to monitor the DataHub for insights on evolving consumer behavior. To access these insights and more, explore DataHub Membership benefits.
Already a Member and interested in seeing some of these trends and insights specific to your 1st party data? We've also performed deeper analysis on the Nonprofit, Publishing and Multichannel Retail sectors. Reach out to your Account Executive today for a custom post-pandemic analysis.