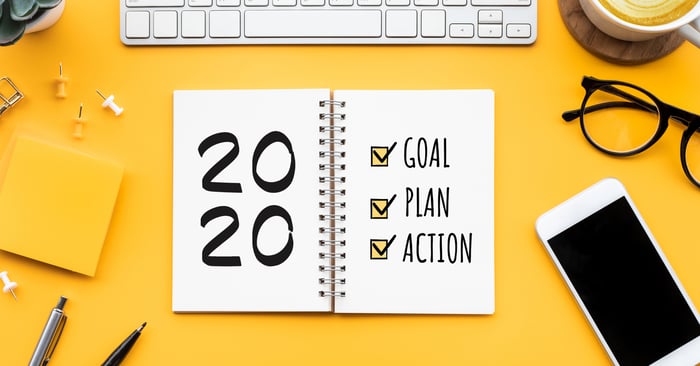 The busiest spending season has come to a close, and consumers now have their sights set on starting the New Year off right. For many, this means setting new goals to aspire towards in the next 12 months. But did you know that 80% of people give up on their resolutions in the first six weeks? That represents millions of Americans who will change their behavior and buying habits after a short period of time. Maybe together, we can help people stay committed just a bit longer by placing the solutions to their resolutions in front of them.
Here's a look at top New Years resolutions that drive purchases and a few audiences to help you target those shoppers.
1. Exercise More

This one probably isn't a surprise, but one of the most popular New Year's resolutions is to exercise more. In fact, this accounts for about 59% of resolutions. Those who are increasing their exercise probably also want to LOOK the role that they are trying to pursue.
Sample propensities to reach those with athletic aspirations:
Fitbit Buyer Propensity
Athleta Buyer Propensity
Fabletics Buyer Propensity
Foot Locker Buyer Propensity
Lululemon Athletica Buyer Propensity
Nike Buyer Propensity
Under Armour Buyer Propensity
Jogger Pants Product Propensity
Exercise & Fitness Product Propensity
2. Save More Money

Although most people attempt to save money in the New Year, this is one of the most commonly failed resolutions, according to inc.com. With a constant effort to save money, most shoppers are looking towards reused clothing. In fact, more than half of females surveyed said they purchased from resale sites, primarily buying designer clothes and accessories.
Sample propensities to reach mindful spenders:
Poshmark Buyer Propensity
T.J. Maxx Buyer Propensity
BJ's Wholesale Club Buyer Propensity
Costco Buyer Propensity
Kmart Buyer Propensity
3. Travel More

Over the past decade, there has been a steady increase in the amount of leisure trips taken in the United States. As the travel and tourism industry continue to unveil new destinations and venues, the desire to travel accelerates.
Sample propensities to reach individuals who are seeking adventure:
GoPro Buyer Propensity
Backcountry.com Buyer Propensity
Airbnb Buyer Propensity
American Airlines Buyer Propensity
Delta Buyer Propensity
Hotels.com Buyer Propensity
Luggage Product Propensity
4. Vote

Goals and resolutions don't always relate to spending. This election is projected to have the highest turnout rate since 1908, attracting both new and experienced voters.
Sample Audiences to Reach the Electorate:
Affordable Care Act
Campaign Finance Reform
Climate Change
5. Be More Eco-Friendly

Over the past couple of years, the amount of electric vehicles on the road has tripled. One major role in this is the fact that more consumers are becoming environmentally conscious and want to make an impact. One of the first places they tend to look is at their vehicle choice.
Sample Audiences to Reach Eco-Friendly Drivers:
In-Market for New Green Car
Own a Toyota Prius
Small Car Loyalists
Full Size SUV Switchers
These are only the top of the list, and there are no shortage of resolutions. To help you find an audience that you can map to your customers' and prospects' goals, visit our full audience taxonomy.
A resolution that is always on the top of our list is to constantly improve the experience for you, our partners. In 2019, we launched the Audience Help Desk to create more ways for us to empower your marketing campaigns. We will continue to grow this service in 2020, so please reach out with any questions! The team will assist with audience recommendations & availability, custom audience development, RFPs and client pitches (free insights, metrics & embeddable charts).
Cheers to a great year ahead!