October in NYC represented another major step forward for many in the ad industry with the return of live events. First with AdWeek, followed shortly by AdExchanger's Programmatic I/O, where the Alliant team was out in full force. There was a palpable, yet tentative energy in room, with so many of us excited to finally be back together in the same room. Along with the great conversations, there was a solid two day agenda built around familiar themes that we've all been facing for the past 18+ months.
Let's take a look at three of the key takeaways our team had from Programmatic I/O 2021:
1. Connected and Addressable TV Belong in Your 2022 Plans
It's no secret that the accelerated growth of streaming TV viewership during the pandemic created new opportunities for brands to reach consumers. According to research from Magnite, 40% of US households are ONLY reachable by CTV and are more reflective of a modern consumer. Additionally, audiences are typically more diverse than traditional TV. These compelling insights make it evident that CTV should be a part of the consideration set for any brand looking to reach their campaign goals.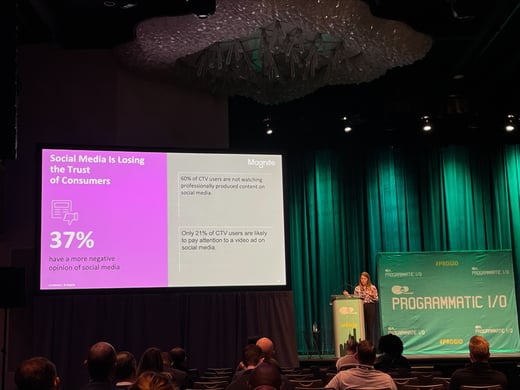 That's not to say that there is still work to be done within CTV though. Complex supply chains, app transparency and small (but growing) programmatic availability can all be evaluated and improved to build a better foundation for CTV.
2. First-Party Data Clarity and Third-Party Misconceptions
The winner for most dedicated sessions goes to...the death of the cookie! Brands, agencies, tech providers, industry groups and research companies all weighed in on the current state of the transition. Emphasis is rightfully placed on establishing robust 1st party data practices, anchored around identity. Unfortunately, many people are still unable to separate the concept of 3rd party cookies and 3rd party data. At Alliant, we believe it's time for a data rebrand to finally dispel these legacy thought patterns.
Overall, the actual timeline for the phase out of 3rd party cookies seems hazy and no one was willing to make any grand predictions. This highlights the uncertainty of how things will shake out, which leads to our next takeaway.
3. Agility and Partnerships Pave the Path Forward
The industry is trying to solve very complex challenges. A blend of tech innovation, regulatory updates, rapidly changing consumer preferences and behavior all create a sea of variables that we must assess to determine the next best steps. Fortunately, most sides seem to be aligned on building a better open web, putting the consumer first. Recent Advertiser Perceptions research shows that a majority of industry leaders recognize that post-cookie success hinges upon a winning combination of partners. #collaborationiskey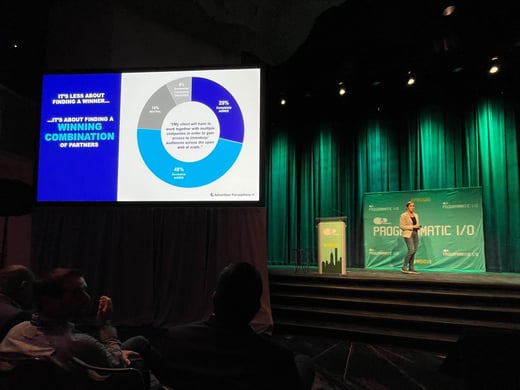 Thank you to everyone who stopped by the Alliant booth and congratulations to all the 2021 AdExchanger Awards winners! After our first full in-person event since the pandemic, we are excited for what's to come in 2022.
Team Alliant is committed to providing a collaborative environment for our Members and partners to build future-proofed cross channel solutions. Want to connect at an upcoming event or discuss how these themes impact your 2022 strategies? We would love to hear from you so reach out to our team!