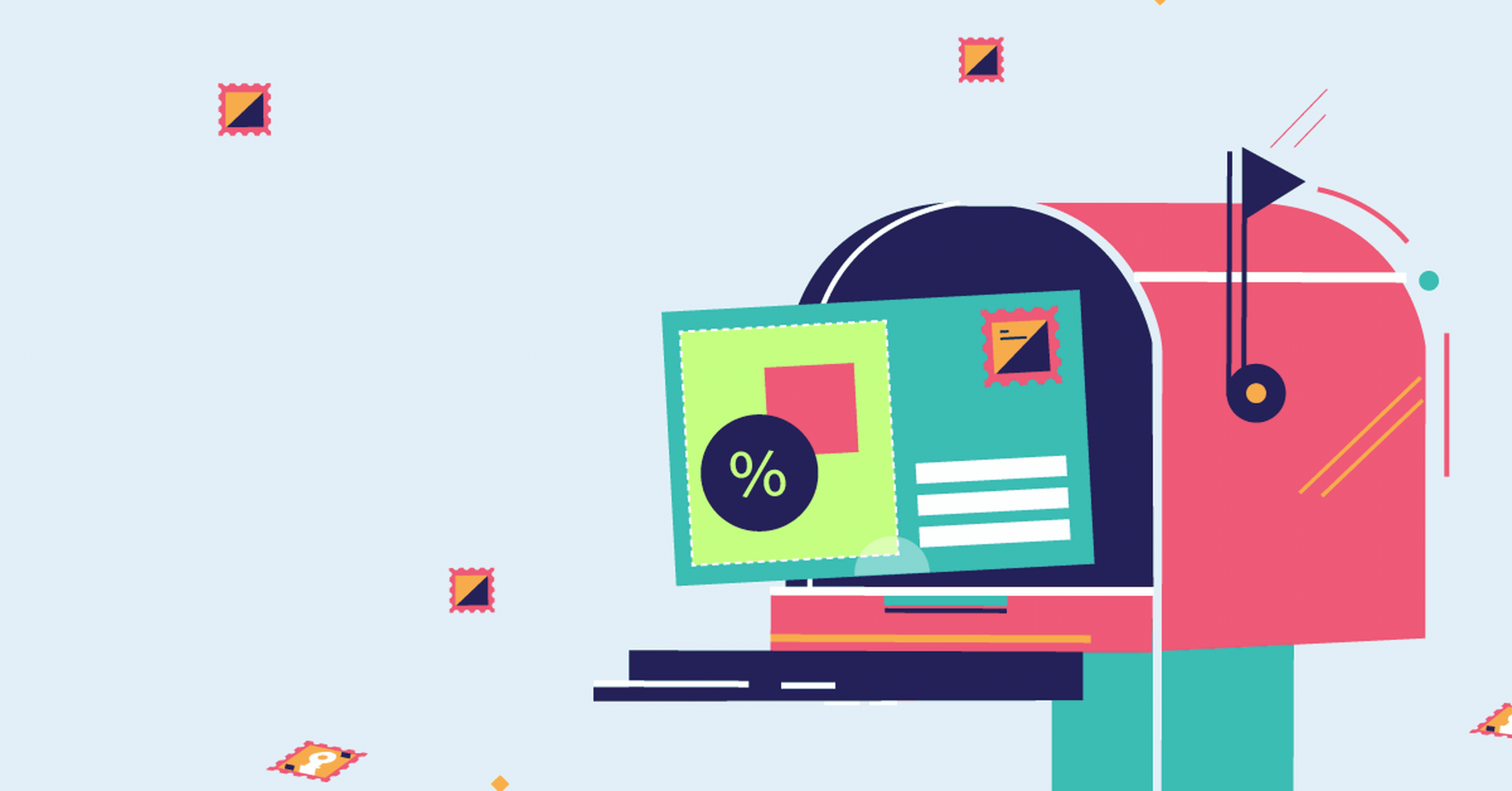 Extensive campaign analysis embodies the scientific beauty of direct mail, allowing savvy marketers to test, evaluate and roll out creative, audience and offer variations. Today, close scrutiny of direct mail performance has become a means of survival, with marketers trying to prove ROI to stakeholders at every drop. With rising costs and shrinking campaign universes, proving return on direct mail investment is more important and challenging than ever. Therefore – one thing is certain – no promotional piece should enter the mail without campaign optimization.
Optimization is the use of predictive modeling to refine audiences. It is the secret weapon of marketers who consistently deliver high-performing direct mail campaigns.
Yet with this tool easily in reach, some marketers are hesitant to introduce new twists to an already complex process. Others fear that stakeholders will see optimization as an unnecessary additional cost. The key is to do your homework and know exactly how the ROI from campaign optimization outweighs the added resources.
Here are four common objections marketers encounter when selling through optimization to stakeholders. To arm you with the knowledge to ensure approval for optimization on your next campaign, and help you stand out as a marketing rockstar, we've also included counter-arguments informed by Alliant's years of experience executing direct mail optimization solutions for top marketers.
I still have to pay for a larger audience in order to optimize it. What about the audiences that I drop from the campaign? How will that result in savings?
Negotiate Net Name Arrangements: It has become quite common to create a net name arrangement with your audience provider, meaning you only pay for the names that go into the mail. This negotiation can save hundreds of thousands in list costs, but the greatest cost savings is in avoiding printing and postage for the dropped mail pieces. Even if you pay full price for a larger initial audience that you ultimately plan to only mail half of, you will still save thousands on printing and postage costs. Reference the direct mail scenario for Company X below. It models costs for a large bi-annual mail campaign, with and without optimization. By negotiating a net name arrangement, they save over $115,000 on list costs in the optimized scenario — but the real savings come from eliminating $800,000+ in printing/lettershop and postage.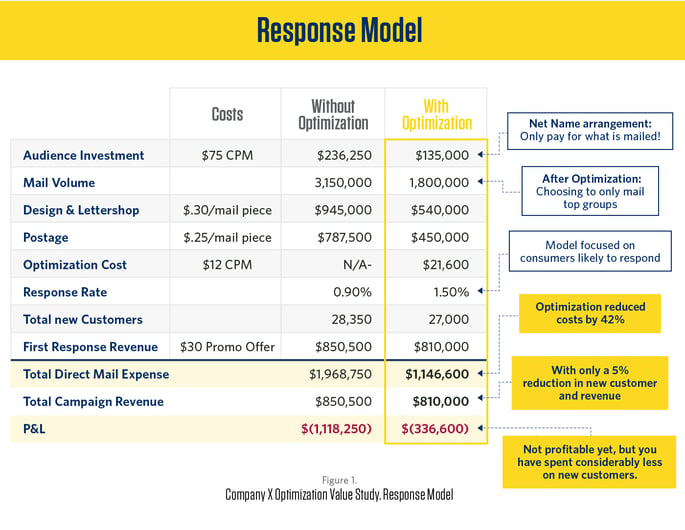 I can already mail my whole post merge profitably, why spend money on optimization modeling?
Optimization Lets You Improve KPIs: While it is terrific that your merge is made up of profitable list sources, your business may benefit from further optimization to achieve other, perhaps more exacting campaign goals. Within those profitable list sources, custom optimization solutions can provide a deeper level of insight to identify prospects who may prove to be less profitable over time and replace them with even more profitable audiences that drive longer term revenue and performance goals.
Further optimization can also help meet specific KPI goals. There is always room for improvement – perhaps response could be .5% higher, or you could model specifically for customers who purchase multiple shipments. In the example below, Company X is reviewing results from a model optimized for consumers with 2+ shipments. While response rate goes down slightly, this model focuses on targeting consumers who will continue to return and purchase, improving ROI even in the near term. From another perspective, this model also identifies consumers who may deserve a little extra effort in messaging — or value-adds like free shipping. Optimization is a powerful tool that can go far beyond a simple binary mail or don't mail signal – it can provide deep insight into how to grow a loyal customer base, drive marketing strategies forward, and increase profit margins.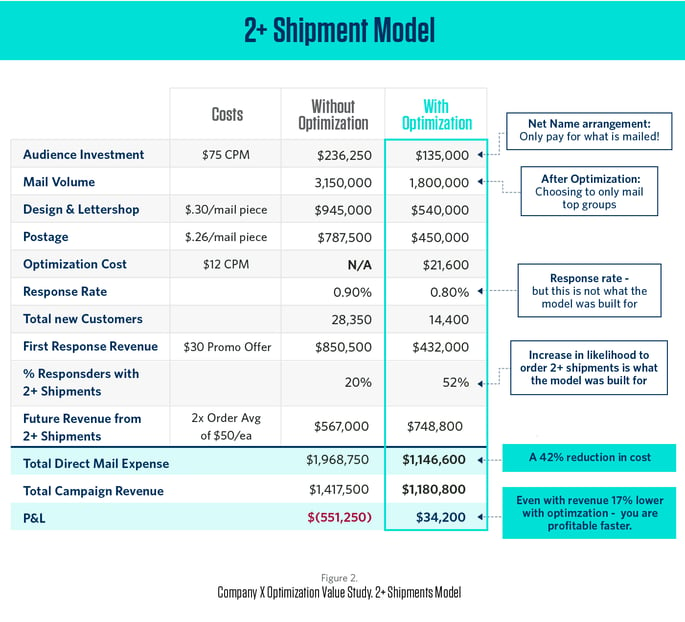 Our mandate is to maintain a certain mail volume. I have tried in the past to mail less, but I can't afford to cut any volume at this time.
Optimization Can Extend Your Addressable Universe: Maintaining volume is a critical concern. Losing volume can feel bad across the board as the issue is often not just less consumers, but also smaller revenue. While few can argue the benefits of cost savings, one of the key benefits of optimization is the ability to select qualified customers from sources and audience segments that would other wise be unprofitable. With a robust optimization program you can not only optimize your initial audience and weed out unprofitable names, you can then replace cut volume with qualified audiences identified by the same model. This additional audience can be arranged in a bundle with optimization for more cost savings. Optimization used to increase the volume of qualified prospects and decrease unqualified consumers ultimately meets total volume and performance goals. It is a win-win.
Our timeline does not have flexibility to send post merge files for optimization.
Time is on Your Side: While many phases of a direct mail campaign can be time consuming – especially waiting for those orders to drip in – the optimization part can be quick and painless. You will need to invest some prep time in building a great model. Data scientists will do the heavy lifting, but providing insights into creative, past results and costs will help to develop a powerful, predictive, and stable model that you can use for years to come. After this initial development, optimizing the audience becomes a brief stop on the way to lettershop. Investments in technology, like Alliant's recent upgrade to SAS Viya, have reduced processing times ten-fold. Most optimization files arrive directly from merge and can be turned around in a day, some in hours.
Campaign optimization will not only drive profit, but it will put the fun back in direct mail strategies. By saving costs on low performing audiences, printing, postage and fulfillment, marketers can redirect campaign budgets into testing new audiences, offers, creative, and even new channels. Bump up a campaign by delivering the same optimized audience promotions on social or programmatic for an additional lift in response. Still struggling to sell optimization through to your team? Don't give up on your marketer's intuition and give us a shout. Our team of optimization experts and data scientists will help prove the value of optimization to your team and your bottom line.