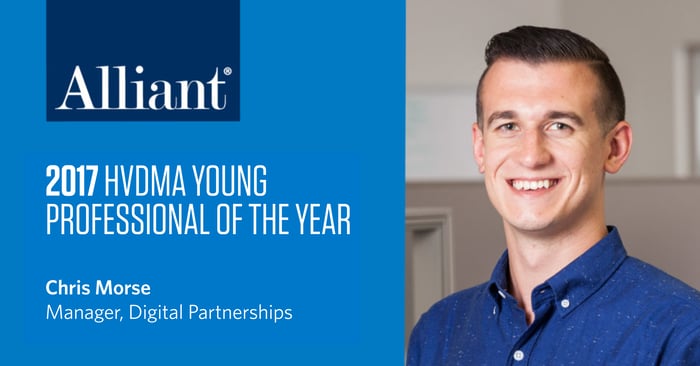 Alliant is proud to announce that Chris Morse will be honored as the Hudson Valley Direct Marketing Association's Young Professional of 2017. The award will be presented this Friday, December 8th, at the organization's annual holiday luncheon in Greenwich, CT.
Chris is a versatile professional with a passion for digital marketing. As manager of digital partnerships at Alliant, Chris cultivates relationships with digital platforms to ensure the accessibility and advancement of Alliant's audiences. He has a keen understanding of the importance of transactional data in audience targeting, and is a key contributor to the development of Alliant's syndicated segments.
Upon joining Alliant in 2012, Chris started his career as a member of the Sales & Marketing teams. As he gained an in-depth understanding of multi-channel marketing, he developed insight into the evolving data needs of the fast-growing digital targeting ecosystem. Chris remains forward-thinking in his current role, and utilizes his expertise to present new opportunities for marketers in the digital space.
Chris holds a Bachelor of Business Administration in Interactive Marketing from Western Connecticut State University — as well as a certificate in Digital Media Sales from the Interactive Advertising Bureau.
Please join Alliant in congratulating Chris on his outstanding achievements and a well-deserved award! It is our pleasure to partner with a marketing professional committed to data-driven innovation.