Commonly accepted definitions of 1st, 2nd and 3rd party data have been around for a while, taking hold in the early 2010's and becoming more prevalent in the last 5 years. Unlike its siblings though, the concept of 2nd party data has never quite solidified itself in the lexicon of marketers. That is all going to change in the face of an evolving marketplace and 2nd party data isn't likely to suffer from middle child syndrome much longer.
Several related but distinct factors are reshaping digital marketing and advertising in the U.S.: the deprecation of the 3rd party cookie, Apple restrictions on IDFA, regulations such as CCPA and consumer demand for data transparency. These collective changes will increasingly limit the availability of 3rd party data and place greater emphasis on a brand's 1st party data. There is acknowledgement however, that to maintain a competitive advantage and continue to grow, brands will need to go beyond their 1st party data.
These seismic shifts, especially over a relatively short period of time, prompted the Winterberry Group to explore how the marketplace is responding in their latest research paper, Collaborative Data Solutions: The Evolution of Identity in a Privacy-First, Post-Cookie World. Haven't had a chance to check out the paper? Check out the link below for easy access.
Winterberry's research, which consisted of hours of interviews and surveys with leaders from brands and data providers across the marketing industry, uncovered the growing adoption of solutions that enable data collaboration between multiple sides of the ecosystem, including brands, data owners, publishers and tech providers.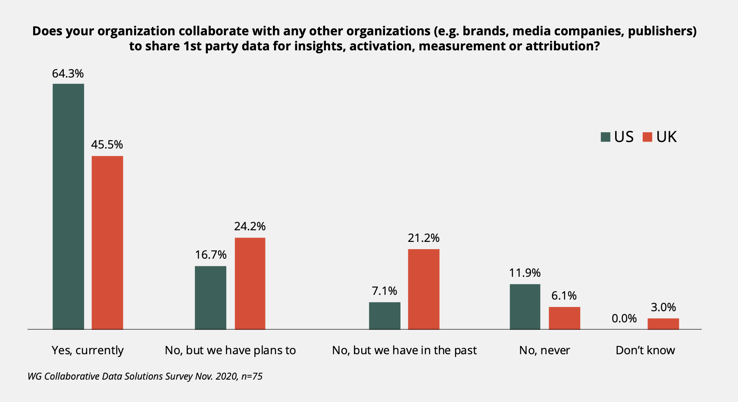 Collaboration between organizations is predicated on the sharing of data resources — which calls for a clear definition or classification of what the resulting data sets would be. This need was evidenced by the responses from brand marketers when asked "What does second-party data mean to you?" The two most common answers align with the previously accepted basic definition: "2nd party data is simply someone else's 1st party data." While not entirely incorrect, that definition does not fully capture the possibilities of 2nd party data.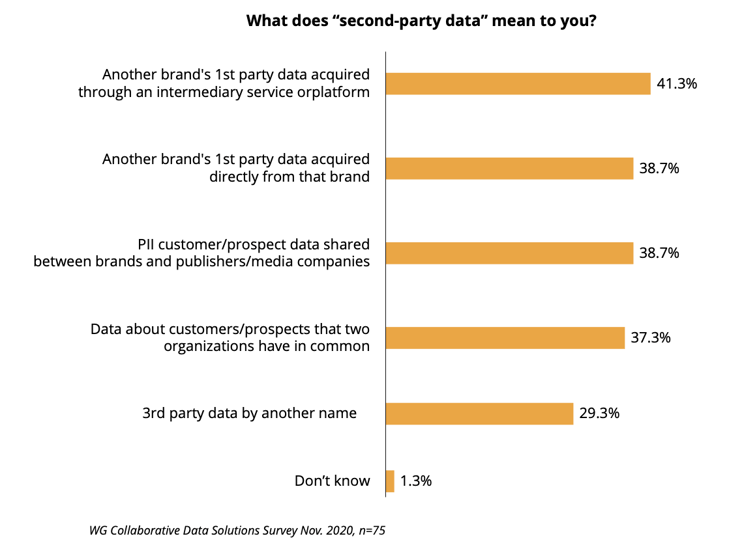 Focusing on the collaboration use case, Winterberry set out to update the definition of 2nd party data to reflect the range of participants and required permissions as the data flows from the primary owner to a shared environment.
2nd Party Data as Defined by the Winterberry Group

Second (2nd) party data is data that is shared in a dedicated environment with a clearly defined set of permissions and rights set between each of the parties and, most often, the 3rd party provider managing the environment.
The updated definition and supporting details establish a more sophisticated framework for a common understanding of 2nd party data. Additionally, Winterberry provides helpful distinctions that 2nd party data can involve 1st party data from more than two parties and that it can change state to 3rd party data once it is commercialized (licensed). While it will have an impact on permissions and rights, the definition notably leaves out the type of data being shared, such as PII and anonymous linkages or IDs. This intentionally creates coverage for more use cases.
Alliant's perspective, as a data cooperative at its core – is that this basic definition is a foundational component that will reduce semantics and pave the way for more strategic conversations among partners. Our Members benefit from a secure and fully permissioned collaborative marketing environment and we are excited for this concept to be more understandable and accessible to a wider group of marketers.
Be sure to download the Winterberry Group's Collaborative Data Solutions: The Evolution of Identity in a Privacy-First, Post-Cookie World for a deep look into the future of data-driven marketing. Interested in learning more about how Alliant can jumpstart your collaboration initiatives? Reach out to us to set up time to connect!