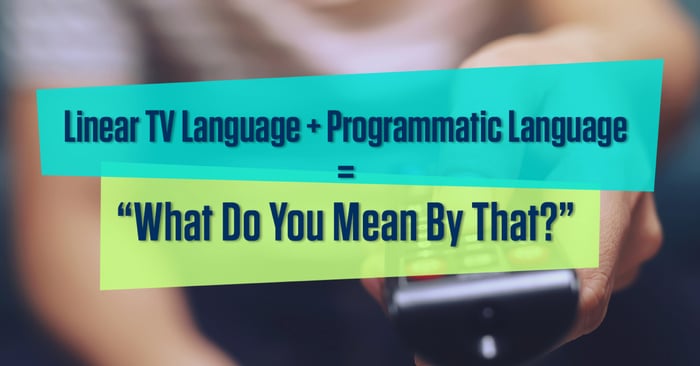 Every industry has its language and acronyms, but it's not every day that two parallel industries converge into one. For years, digital gurus have been forecasting the coming of addressable TV. Big money is shifting to these new platforms for finding the right viewer at the right time. In 2019, ad spend will total $2.5 billion and in 2020, it's expected to hit $3.3 billion.1
For anyone diving into the market, here is the basic vocabulary and how it is used – or misused – by industry experts.
| | | |
| --- | --- | --- |
| Term | Definition | Real World Use |
| Advanced TV | Using data to target a user or household watching commercial TV content across any device. Includes: addressable TV, connected TV, OTT, and data-driven linear TV (see below). | Probably the most misused term for addressable TV. |
| Addressable TV | Using data to deliver an ad to a specific household on a TV screen. | Often misused by people in the industry when they really mean CTV/OTT. To some, it means both. |
| Linear TV | Traditional television viewing. Watching a show, the viewer must tune in to a specific channel on a television at an appointed time. Viewers access linear TV via an MVPD. | What most of us grew up with and has been around since the dinosaur. |
| Data-Driven Linear TV | Traditional television that leverages data for planning of a media buy. This is a transitional approach until full addressable TV is a reality. It is more of an offline planning activity that leverages data from varying channels. | Interim step to get addressable. Kind of like a hybrid car. Not one (linear) or the other (addressable). |
| Over-the-Top-TV (OTT) | Video content transported from a video provider to a connected device over the internet outside the closed networks of telecom and cable providers. | Think: Hulu and Netflix. |
| Connected TV (CTV) | Televisions that can connect to the internet - directly or through a device that plugs into the TV. | Think: a smart TV, Roku or Apple TV device. |
| MVPD | Multichannel Video Programming Distributor. | Cable, satellite and fiber TV providers. |
| vMVPD | The "v" stands for virtual. A streaming pay-TV subscription, which provides access to traditional linear TV networks as well as on demand content delivered over the Internet without the traditional set top box infrastructure. | Think: Sling, DirecTV NOW, and Hulu. |
The Alliant team is excited to navigate more than just the language of addressable TV - check out how we can deliver audiences across it to ensure you reach the right viewers.