Uncertain times have marketers scrambling to understand impact on consumer behavior and how to align brand experiences with the evolving needs of their target audience.

You don't have to wander into the unknown alone − let data be your guide to enhance consumer experiences and give your campaigns a boost of confidence. Here are a few ways data can be leveraged to execute effective and versatile marketing strategies:
Increase Agility and Reduce Spend
Responding to changes in offline and digital signals can be costly. Identify cost-saving opportunities with data by gaining deeper insights into your target audience. Optimizing your audiences through predictive modeling allows marketers to suppress unqualified prospects and target potential high-value consumers. Models that predict response and other KPIs will provide marketers reassurance through better control of outcomes in campaign performance with less waste.
Direct Mail
Don't let market challenges like supply chain issues fully dictate your strategies. For example, if direct mail is part of your mix, optimizing your efforts will reduce the negative impact of shortages.
The below direct mail scenario for Company X illustrates cost savings through an audience optimization model. It models costs for a large bi-annual mail campaign, with and without optimization. By only targeting prospects most likely to respond, Company X saves over $115,000 on list costs in the optimized scenario − but the real savings come from eliminating $800,000+ in printing/lettershop and postage.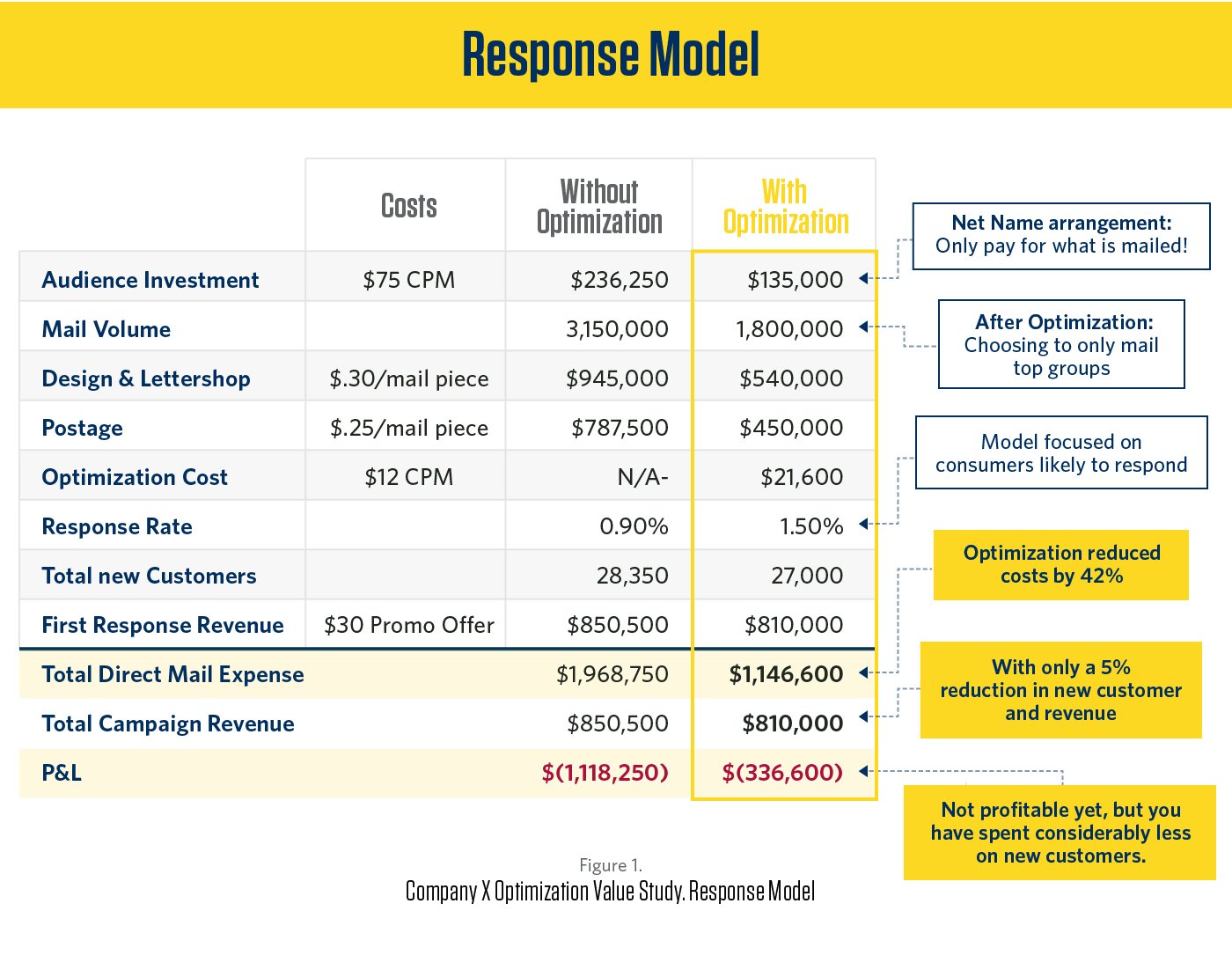 Read about other direct mail scenarios and negotiating net name arrangements here.
Digital Channels
Audience optimization is not reserved for a single channel and is equally powerful in driving consumer engagement and conversion online. Propensity modeling allows brands to reach consumers with the highest interest in their products and services. Qualified audiences provide premium reach − proven to drive impressions, engagement, and overall performance of online advertising programs. In some cases, two times the number of leads originally budgeted and 50% reduction in cost per acquisition.

Boost Revenue with Upsell, Cross-Sell , and Retention
Let's rethink audience targeting for a minute. Right now is a transformative time with an increasingly complex customer journey. Look beyond net new customer acquisition and shift some of your efforts to cross-sell and upsell opportunities. This will target customers that have already proven profitable rather than starting purely from acquisition − driving a higher lifetime value.
Times of uncertainty impact consumer behavior though, and what consumers have done in the past does not mean we can expect the same behaviors in the future. Enriching customer information with additional attributes will provide a more accurate representation of their current state. Tap into ancillary consumer-based data attributes to get to know your customers beyond your own walls.
Data enrichment is a powerful tool to discover insights for building data-rich relationships. These insights will help save time and energy in creative management and identify channel preferences for better experiences.

Invest in the Channels that Perform
Optimize marketing spend and allocate budget to channels with the greatest ROI. Marketers should monitor performance by source to ensure cross-channel approaches are effective and respond quickly to mitigate potential impact of any changes. Marketing budget should remain elastic as consumers move to and from media platforms.

There are valuable insights at your fingertips. Whether your campaigns are feeling the effects of supply chain issues or price elasticity due to inflation, data provides cost-saving solutions and can arm marketers from the unexpected. Let data guide you to predict future trends and enrich consumer insights to maximize marketing outcomes.

Want to talk audience strategy and optimization? Reach out to the Alliant team to learn how powerful purchase-based data can improve your campaign performance.