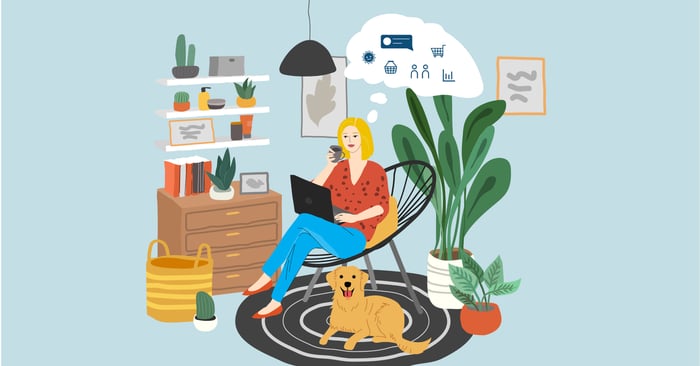 On March 2nd, with a full container of disinfectant wipes in my carry-on, I boarded a flight to attend the ANA's Masters of Data and Technology Conference. COVID-19 was starting to spread in the US, and many event attendees were taking similar precautions. Most of us were unaware of just how much our lives would soon change in the coming days and weeks though. Alliant soon shifted to a mandatory work from home policy and we have since adjusted to working remotely, virtually moving full speed ahead.
While working from home hasn't slowed me down as Alliant's Events and Social Media manager, I have felt the impact of the pandemic in different ways. With events cancelled for the foreseeable future and a noticeable shift to a more somber social B2B environment, more than my office view changed in March. With obvious changes in my workload I've embraced new approaches and discovered some opportunities in this time of transition. Here are a few ideas for other event and social media marketers navigating a new normal:
Be adaptable
With a number of conferences cancelled or rescheduled, event organizers are exhibiting great adaptability. Many have decided "the show must go on", announcing virtual events in the meantime. Alliant was a sponsor of SUBTA's SubSummit Conference in May, now being held in November, with a virtual event to tide us over in between. Working with event hosts to create meaningful content and ways to engage virtually is a welcome challenge. And we can all get a head start on what promises to be a busy fall events line-up.
Beyond a lull in my day-to-day event work, finding other projects has propelled productivity. Just as extra time at home means more time for spring cleaning, I've taken the same approach with our marketing platforms, by reviewing and reorganizing assets. I've also jumped in on projects that aren't part of my usual daily work; for example, auditing Alliant's blog content, updating keywords and links to assist with SEO goals.
Plan for the future
A good way to balance these uncertain times is by shifting future plans, taking time to review your 2020 goals and make adjustments that align with the current reality. I had aggressive social media goals to increase followers and posts. While we continue to post on social, we are being more thoughtful about what and how we share, resulting in lower post frequency and engagement. I'm sure many of you are experiencing the same and rethinking targets for the year. Rather than just lowering goals for the year, a thought at the top of my mind is– are there creative ways to still accomplish my original goals? Using social to speak to your customer in this time is important. Perhaps some of my own insight will be helpful.
If some plans are on hold all together, now can be a great time to invest in your professional growth by attending webinars or taking online classes. You could set up a virtual group with other team members to have a coffee and share some new concepts or ideas. You never know what might end up being put into action.
Get creative
Look at what others are doing, even if they are unrelated to your industry. Gyms are offering virtual at-home classes (I miss the orange zone!), universities are offering courses at lower costs. Creativity in product packaging and messaging will help to keep customers engaged and perhaps acquire some new ones. With some extra time available, event marketers can also look towards projects that utilize their creative side – for me, that's writing this blog and partnering with other team members on new projects. Content teams may need help with brainstorming and proofing, while the sales team could use assistance with client outreach. Partnering with other teams may even lead to new ideas for solutions or messaging.
Be thoughtful
This is always a good rule of thumb, but thoughtfulness is especially important right now. Continue with planned marketing, but only once you've thoroughly reviewed content to confirm that messaging is sensitive and appropriate. If you're uncertain, ask your team for their input. Thoughtfulness is not just about messaging, but channel and timing. I had plans to mail spring gifts to clients but paused as many partners are not in the office to receive packages. Social remains a great tool to stay connected. For social media managers, creating empathetic messages to connect with your audience is more powerful than ever in the B2B environment. It can also be a time to highlight your culture and the strength of your teams.
The team at Alliant, myself included, is putting our clients first and are here for support on any component of your marketing strategy. Whether that is social media and events musings such as this, or other more tactical things such as audience delivery to Facebook or reactivating unengaged customers via direct mail. We are here for support, or just for a chat!