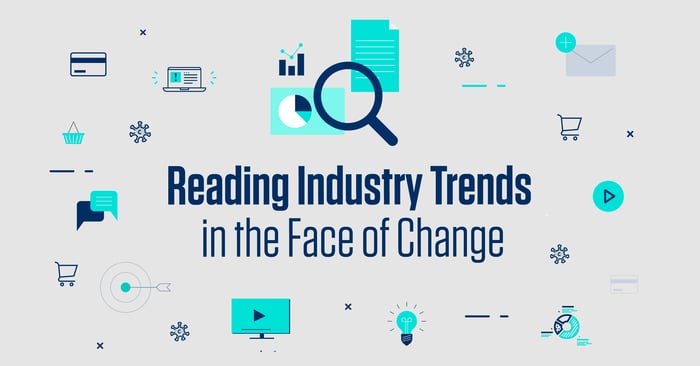 Over the next few weeks the Alliant team will supply insights for our DataHub Members and customers to help navigate the overwhelming amount of news, surveys and information pertaining to the current marketing climate. Our team has been attending webinars, consuming news, and talking to our partners and each other to distill important trends. Some of the stats we find most informative are gathered here.
Marketing Spend
In a March survey performed by the IAB, a quarter of brands plan to pause all advertising spend for the remainder of Q1 and Q2, and another 46% plan to adjust ad spend for that time.¹ Several verticals, led by travel, hospitality and sports, plan to pull all spend. With cancelled events relating to TV, movies, basketball and even trade shows, the ANA estimates a $26 billion loss to 2020 US ad spend. Less hard-hit verticals are responding with delay, even in the B2B space where 69% of companies are delaying marketing decisions. 5 However, many of our Members who took such initial steps, have pivoted and taken the break to re-brand, developing new creative and positioning, ultimately reconsidering appropriate spend as compared to no spend at all. With adjustments to working remotely, many (Alliant included) took a week or two to re-assess in order to be sensitive, and nimble, as they planned responses.
Strategic Brand Messaging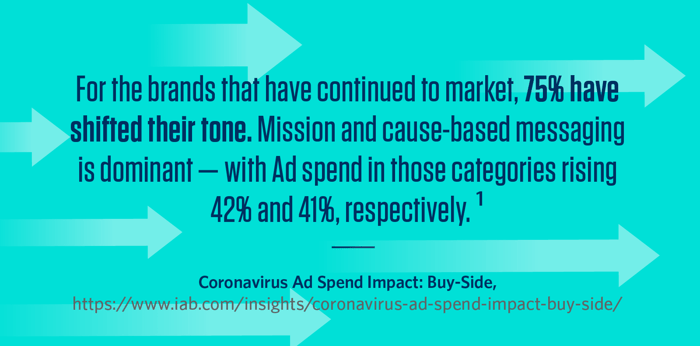 For the brands that have continued to market, 75% have shifted their tone. Mission and cause-based messaging is dominant — with Ad spend in those categories rising 42% and 41%, respectively. ¹ This includes nonprofits and mission-based brands who continue to market during this time, but also major brands who are aligning with cause-based groups and initiatives. Anheuser-Busch redirected $5 million in marketing dollars to the American Red Cross, and United Airlines donated media space to UNICEF. ² Other brands are shifting more than their messaging — they're altering production. Major fashion houses, like Prada, are producing facemasks and Tito's vodka is producing hand sanitizer. ³
When not aligned with an established cause, marketer, or production capability, many brands are simply pivoting to create more empathetic messaging. Automotive has been a strong force, with Hyundai promoting their Assurance Job Loss Protection initiative, Toyota messaging "We're here for you", and Ford replacing their regular ad cycle with a Coronavirus-response campaign and offering a car payment relief program.² Across most verticals, brands are finding ways to contribute to the global need, be compassionate, and build trust.
Trending Consumer Activity
Shoppers are staying at home and limiting expenses. Necessities, of course, take priority yet many consumers are spending in key home, apparel and entertainment categories. Cooking, crafts, health and wellness, home care and projects, movies and games, and children's education, are all peaking as areas of interest and purchase for the average American family.¹ CPG and DTC brands are seeing sales rise in categories like fresh and organic foods, vitamins and supplements, household care products, cleaning supplies and packaged foods. There have been increases in purchases of athletic apparel, and a 119% increase in web traffic related to fitness equipment. Other areas with increased traffic include a 41% increase for gardening related content and 31% for video games. 4
Subscription and delivery services are seeing organic growth as well. So much so that many are ceasing active acquisition efforts and focusing on fulfillment and serving their existing customer base. Other markets seeing steady consumer interest during this time are pet supplies, home services, and insurance. While auto sales are down, online traffic is up 100%+ across segments, presaging a potential spike of pent-up demand from auto shoppers after a return to normalcy. 4
Consumer Attention is Focused Across Channels
With web traffic up across relevant verticals and coronavirus content, consumers are also watching the nightly news, indulging in OTT subscriptions, playing video games and staying connected on social media — all on multiple devices.² Overall, TV screen time shows week over week increases of +29%, much of that related to video games, and a seemingly small but meaningful increase to 57% of households reached by internet-connected devices such as Roku and Apple TV, as compared to 53% in late February. With special offers and time to binge, streaming services dominate with reported growth rates as high as +92%. OTT and CTV viewership is up around 20%, but ad dollars aren't yet meeting the increased supply. 2 Publishers are challenged across digital media to monetize a lot of the increased traffic due to coronavirus terms being blacklisted by brands. Daily social media activity is up an impressive 70%.5
Direct mail has also remained an active channel: "We have seen movement in the B2C mail stream as many people are now stuck at home; well-designed and executed direct mail is something they look forward to getting," noted a recent Target Marketing article.7 Some Alliant partners who have leaned on direct mail for years find value in being in the mailbox when no one else is. With consumers at home and perhaps using that walk to the mailbox for a break in the day, direct mail is as relevant as ever.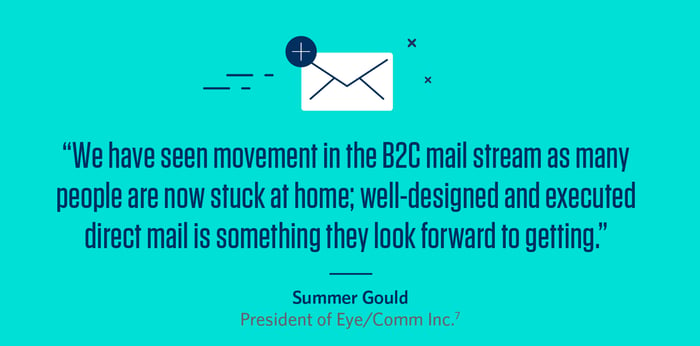 Read the Data — and the Room
No matter the channel, the IAB encourages marketers to embrace audience targeting during this time.1 Identifying the right audience in the right channel and delivering the right message is more important than ever. With marketers across verticals expressing empathy, changing production, offering alternative payment plans and more, presenting new positioning to the right audience has the power to build trust, empathy, and pave the road ahead.
In these extraordinary times, smart brands will continue with extra care, heeding both the data and their audience. In an unprecedented time, marketers need to not only read the trends, but "read the room" as Jen Hartmann, John Deere's Director of Strategic PR, recently emphasized.6 Gather the facts, but ultimately know your audience, pay attention to what's on their minds and follow your marketer gut to develop and deliver the best message.
Next week we will look at more actions other marketers have taken and include some thoughts and experience from our team over the last couple of weeks. Ultimately, we will gather, and present learnings aimed at navigating a "new normal" together. In the meantime, don't hesitate to reach out to pass along ideas and resources that help you manage your strategy, share a recipe — we've been doing that a lot around our virtual office — or say just say "Hi".
Resources
Coronavirus Ad Spend Impact: Buy-Side, https://www.iab.com/insights/coronavirus-ad-spend-impact-buy-side/
Coronavirus: Evolving Trends and Implications – U.S. PERSPECTIVE, Publicis Groupe
With Travel on Hold, United Airlines Donates Media Space to Unicef, https://www.adweek.com/creativity/with-travel-on-hold-united-airlines-donates-media-space-to-unicef/
What you need to know about changing consumer behavior during COVID-19, https://sharethis.com/insights/2020/04/what-you-need-to-know-about-changing-consumer-behavior-during-covid-19/
Strategies for Marketing During Coronavirus – Simon Bradley, https://www.ana.net/webinars/show/id/COMWW-200320
Jen Hartmann – Twitter, https://twitter.com/jenalyson/status/1247150605342294018?s=20
COVID-19's Effect on the USPS and Direct Mail Marketing, https://www.targetmarketingmag.com/post/covid-19s-effect-direct-mail-marketing-usps/