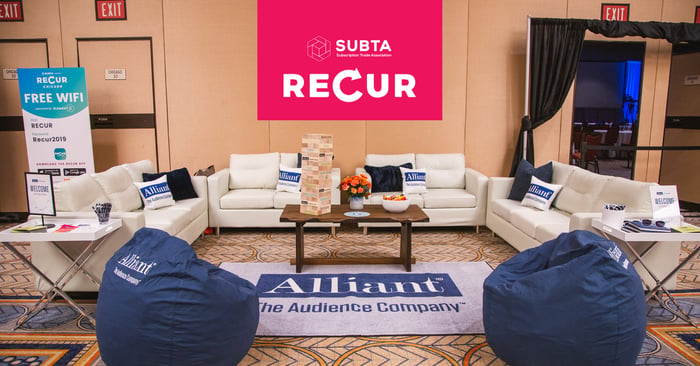 Alliant's subscription strategists have returned from SUBTA's Recur in Chicago with new insights on the booming subscription economy. Alliant has a rich history of working with top subscription brands and our team is always eager to talk shop and hear from some of the industry's leaders and innovators. Recur's line-up of sessions covered a range of trends among companies with a recurring revenue model. Here are some of our takeaways:
Predict & Prevent Churn
Reducing churn has long been a goal for subscription marketers, and using data to predict and prevent churn is more valuable and possible than ever. By monitoring data trends related to churn, companies can form strategies to keep valuable subscribers as long-term customers.
Influencers
Brand ambassador and influencer programs are a popular marketing tool in the subscription space – but with mixed results. While some brands have experienced success, other brands shared that influencer marketing programs did not acquire high quality subscribers and success. Companies with a similar business model are a good point of reference, but study your own KPI's to decide if influencer marketing is the right use of your budget.
CAC v. LTV
While decreasing customer acquisition cost (CAC) has long been a goal of marketers, the current focus is on lifetime value (LTV) to build lasting relationships between brands and their subscribers. Customer relationship value (CRV) is also a priority of many brands who strive to increase LTV through providing value through their product, process and corporate values.
Customer Experience
From crafting helpful website language, to analyzing call center logs – providing a seamless customer experience is paramount to success for subscription companies. Gathering feedback and data from users can help inform where process improvements can be made, reducing customer friction with your brand.
In the age of convenience and customer experience, subscription business models have reached nearly every B2C industry. Even if your brand doesn't utilize a subscription model (yet), these insights can help to inform your marketing strategy for 2020 – and beyond. Alliant provides solutions for subscription businesses by using data and predictive modeling to help increase lifetime value and reduce churn – our Subscription Toolbox is a great place to get started!
Looking to unbox more strategies? Alliant will be joining top D2C brands at IAB's Direct Brand Summit, November 10th-11th in New York. If you'll be there, let's find time to meet!