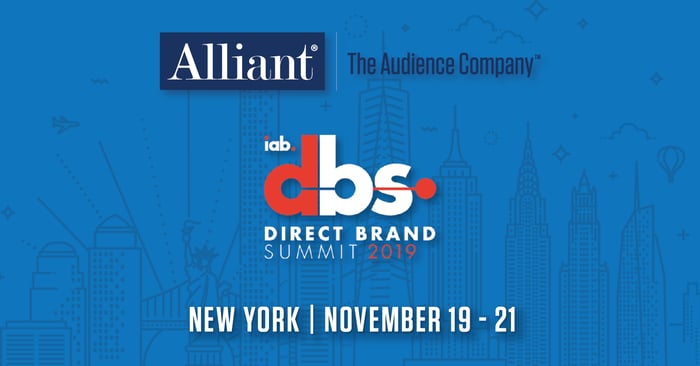 Join us at the leading brand conference in NYC!
Heading IAB's Direct Brand Summit next week? The Alliant team will be in attendance and is proud to be an event sponsor! Make the most of your conference experience by staying connected, meeting new partners and soaking up the content.
Connect with Alliant
As the official WiFi sponsor, we're delighted to keep you connected! To connect, use Network: AlliantDBS2019 Password: TheAudienceCompany to access the WiFi at Convene. Once you've connected, explore the event app or take a break from your device and find a member of our team to grab a coffee.
Curiously strong audiences
Don't miss Alliant's addition to the event swag bag. We're all about keeping things fresh –at the conference and beyond. Our brand propensities audiences are a top solution for brands –and with the addition of our new product propensities, your options for targeting are stronger than ever.
Meet your conference goals
Curious about addressable TV? Need more info on CCPA? Need to make the turn from rapid acquisition to driving profit? Whatever your goals are, we've got you covered. With industry insights and solutions available across all channels, our team can help you start 2020 with a bang.
Can't make it to the Direct Brand Summit this year? No problem – with offices in NYC and Boston, our team is available to meet at your convenience. Plus, keep an eye on our social media for updates from the show and our post-conference blog with top insights from the speakers.